Magazine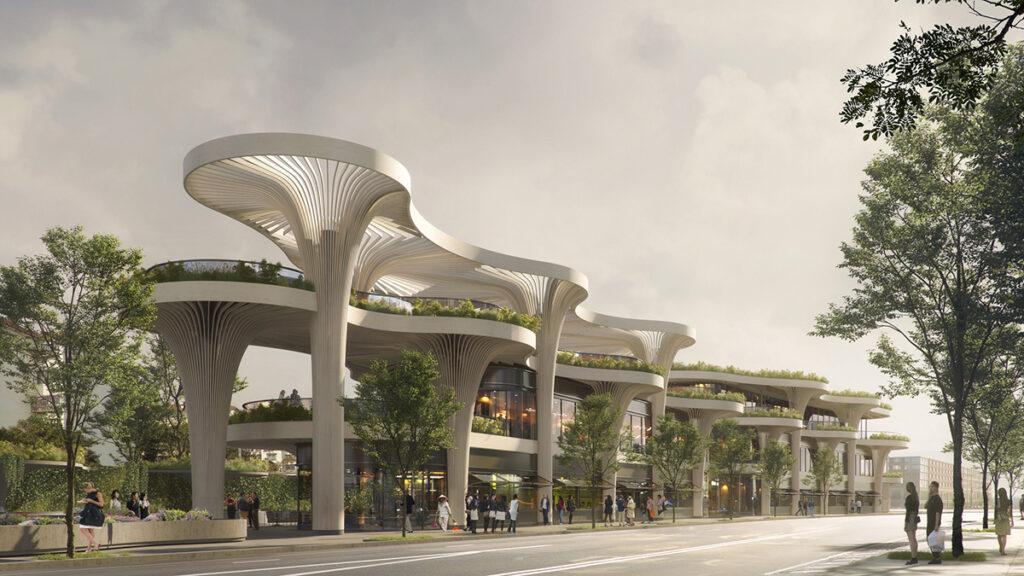 A floral cyborg
A woodland of man-made and native trees has sprung up in Shanghai, named Solar Trees Marketplace. It even generates its own solar power.
Have you ever been to the new market hall in Rotterdam? From an architectural perspective, it is a truly impressive structure. What is particularly unique about this completely roofed hall is not just its combination of market, retail stores, catering and parking. It is even possible to live here!
Green space in concrete jungles
Nevertheless, even though it was only completed in 2014, the building contradicts contemporary urban needs. Instead of thick layers of concrete, planners across Europe are now paying special attention to creating green and open spaces. To cool down the concrete jungles. And increase the quality of life.
China shows how it's done
You only need to look to the People's Republic of China to see how these two poles can somehow be married. The megalopolis Shanghai is building a market hall that can't really be termed a hall. But its customers aren't entirely exposed to the open air either. Essentially, the architects have succeeded in developing a clever hybrid solution. It is one that – ideally – makes everyone happy.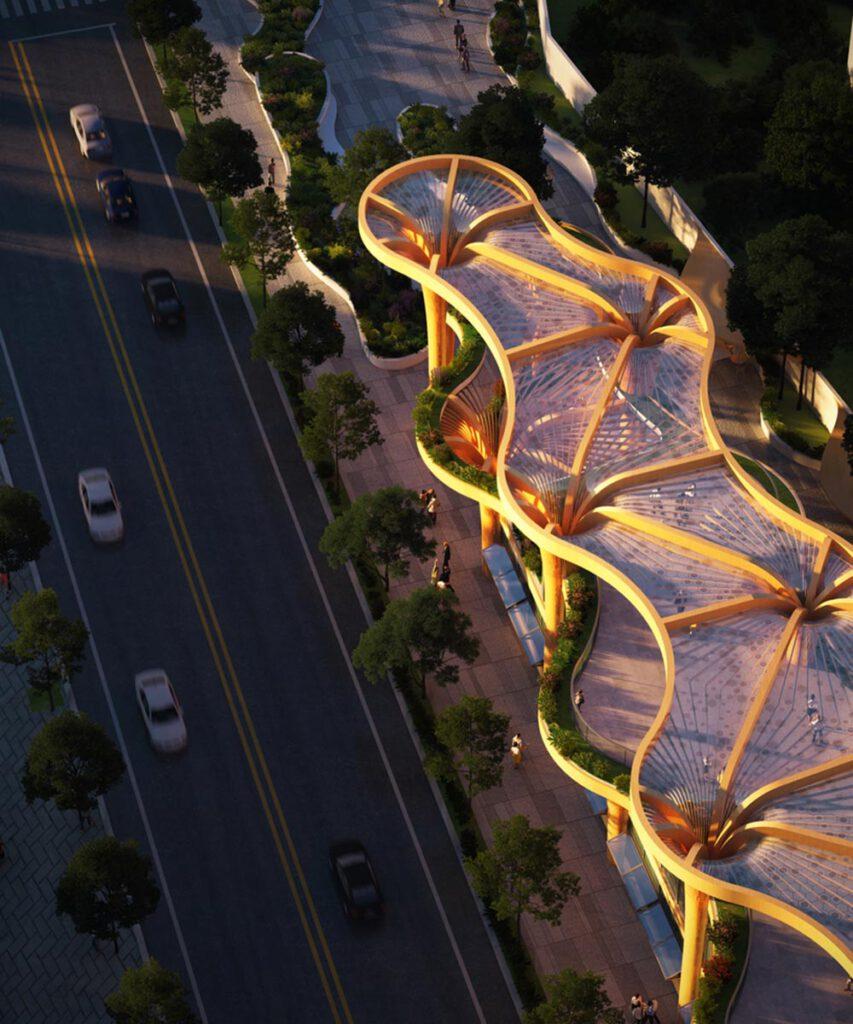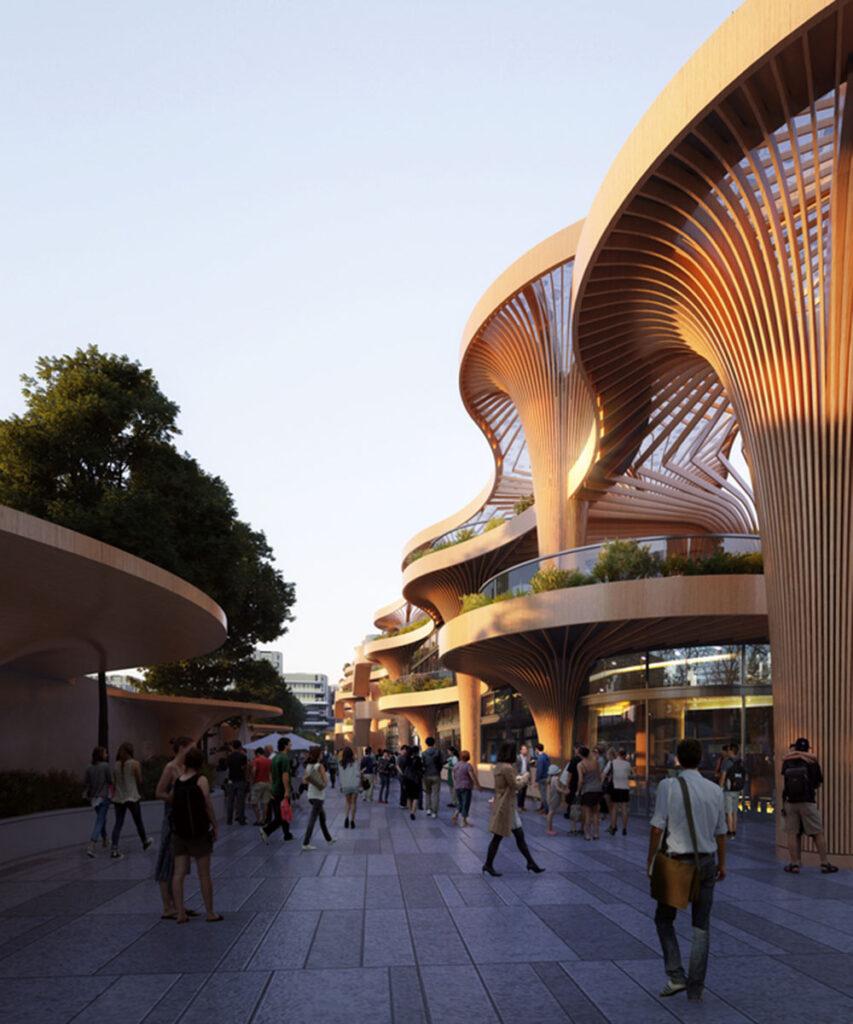 First and foremost, though, the project should put a smile on the face of the country's government. After all, China also has to meet its climate goals. The country with its 1.5 billion inhabitants has in fact pledged to become carbon neutral by 2060. In comparison: Europe aims to reach this goal by 2050.
Biophilic Solar Trees Marketplace
At any rate, this was the focus of the invitation to tender for the 7,500 m² market hall in Shanghai's Minhang district. The planners had to aim for a CO2 footprint that is as minimal as possible – both during construction and also when in operation later on. And so Koichi Takada Architects from Australia developed a "biophilic marketplace". Or at least that's the official description of their project, which is actually named Solar Trees Marketplace. It is a construction that was inspired by the forests of Shanghai. That's what the planners say.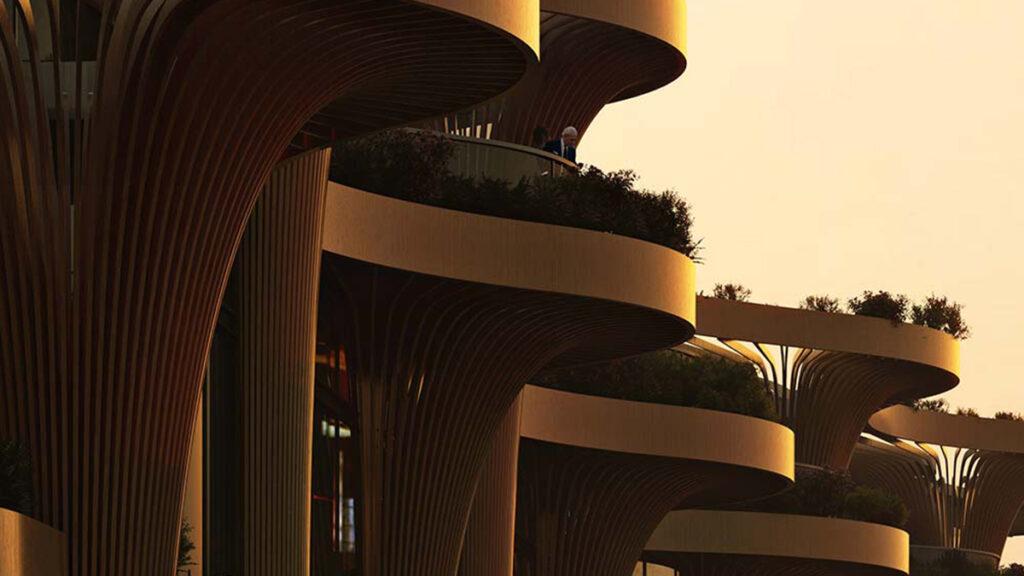 Solar Trees Marketplace will accommodate modular stands, reminiscent of traditional markets. The design uses sustainable features such as natural ventilation and solar panels.

Koichi Takada, architect
This inspiration is instantly recognizable: thirty-two architectural "trees" are set to rise up out of the ground. They will merge with 50 real trees to form a gigantic "canopy of leaves" that will shelter the new marketplace.
Increasing the urban quality of life
"We want to humanise buildings in the district, to be more engaging to the public and contribute to the regeneration of communities and their neighbourhoods. We want architecture to celebrate cultural identity, along with encouraging pedestrian activities and a more walkable and liveable city," explains principal Koichi Takada.
A kind of floral cyborg
The project is described as follows: "Solar Trees Marketplace will accommodate modular stands, reminiscent of traditional markets. The design uses sustainable features such as natural ventilation and solar panels."
However, the man-made and natural branches of this floral cyborg will do more than just provide shade. The boulevard of native trees is intended to achieve maximum air quality, while the structural elements will be equipped with translucent canopies that will all produce solar power.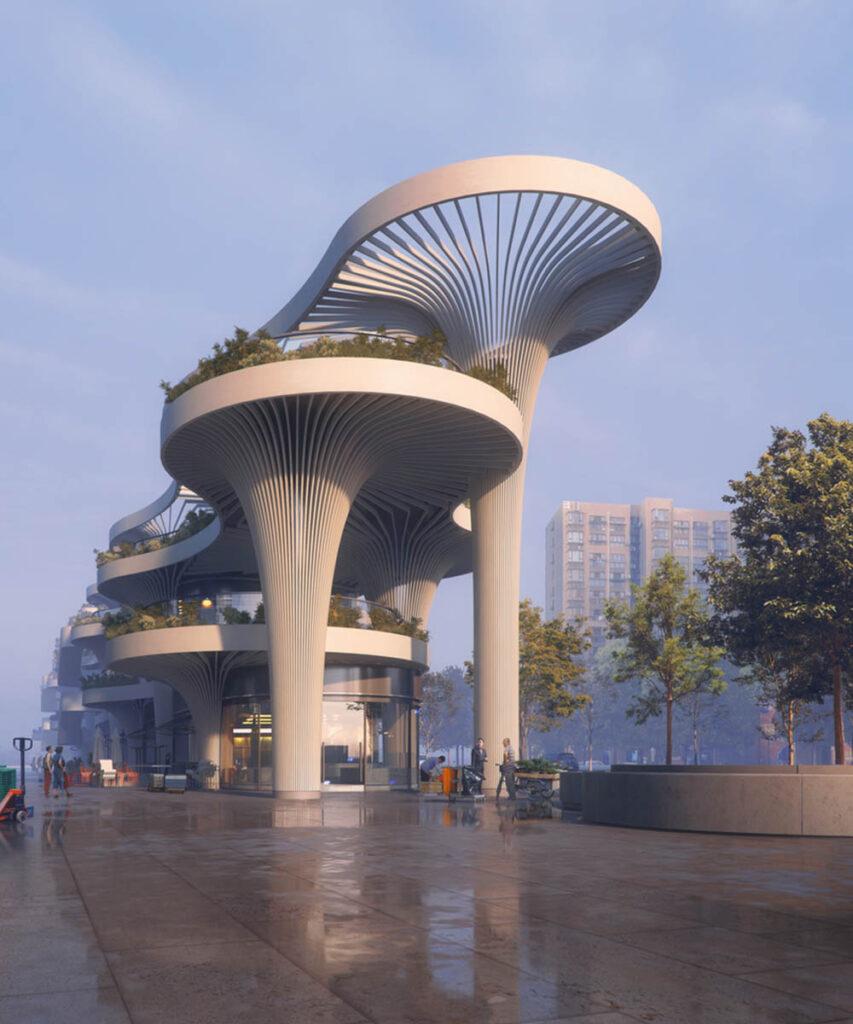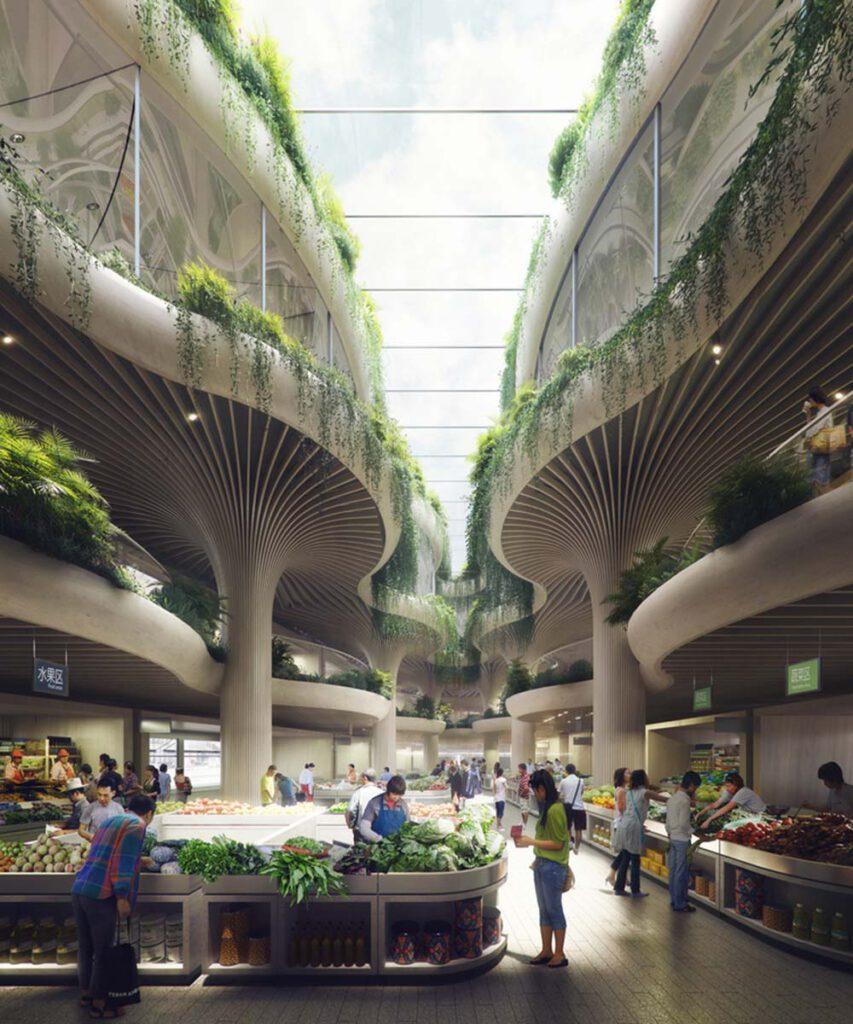 "This solar canopy will filter the sunlight to allow people to enjoy the health and wellbeing benefits of shopping outdoors," the architects say.
Only native trees
The designers have not forgotten the surroundings either: "Fifty camphor trees planted outside welcome the beginning of the green corridor that runs through the masterplan. Three thousand trees and shrubs indigenous to Shanghai, including white magnolia (Shanghai's city flower), ginkgo and celtis sinensis, create a new and significant park."
Not their first project
The designers are experienced in this field: the Solar Trees Marketplace is the most recent in a series of projects for which the Sydney-based office has taken its inspiration from nature. Always with the aim of "making one of the world's most polluted cities into a healthier and more liveable urban environment," underlines Koichi Takada. This series of designs includes the Urban Forest in Brisbane and the Sky Trees project in downtown Los Angeles.
Vienna calling?
In Austria's capital city, residents and politicians are busy arguing about the future of Vienna's famous Naschmarkt. Maybe somebody should pick up the phone and dial Koichi Takada's number …
Text: Johannes Stühlinger
Translation: Rosemary Bridger-Lippe
Images: Koichi Takada Architects / SAN
Other articles
that might interest you