Magazine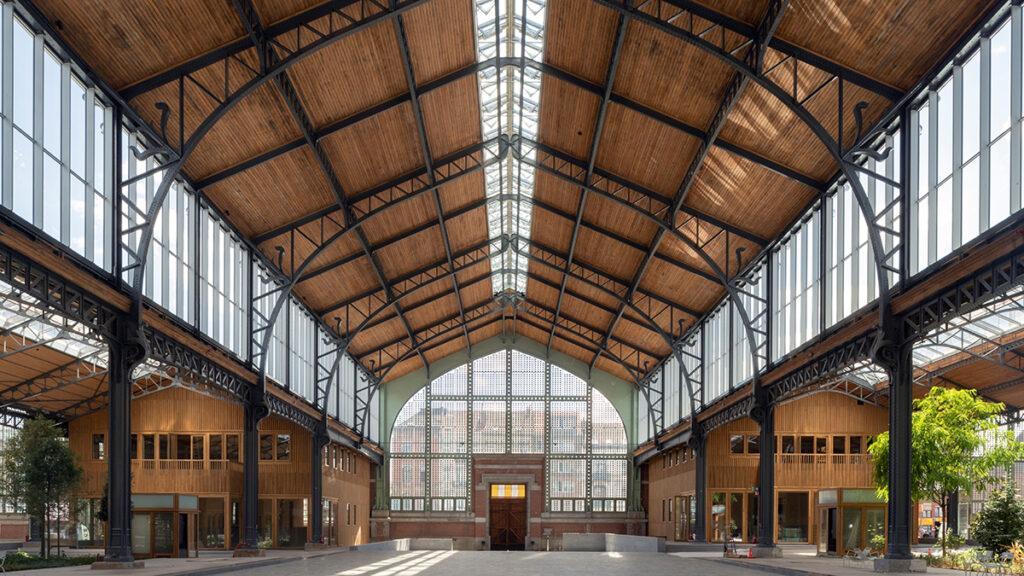 Gare Maritime restored in timber splendour
Once Europe's largest freight station, Brussels' monumental Gare Maritime is now the largest European CLT project. Neutelings Riedijk Architects have transformed the historic structure into a covered district, giving it a sustainable new lease of life using cross-laminated timber.
Up until the 1980s, the Belgian capital's Tour & Taxis site was one of Europe's most important transhipment centres. After this, the early 20th-century industrial site fell into disrepair – together with its Gare Maritime, once famous as the largest freight station on the continent. It was not until the new millennium that developers began to renovate the historic buildings one by one. This resulted in Tour & Taxis winning the European Heritage Europa Nostra Award in 2008. Today, Gare Maritime is being celebrated again: as Europe's largest cross-laminated timber project.
Sustainable flagship project
There are plenty of lovingly restored railway stations. But this one is far more than just an attractive sight. The new Gare Maritime is being showcased by developer Extensa and the team at Neutelings Riedijk Architects as a prime example of sustainable design. Everything under the elegant steel roof is now made of timber. The station relic has been converted into a "city within a city" – one "where it never rains". Measuring 280 m long and 140 m wide, the building is now bustling with life again. There are shops, offices, workshops and plenty of space for public events.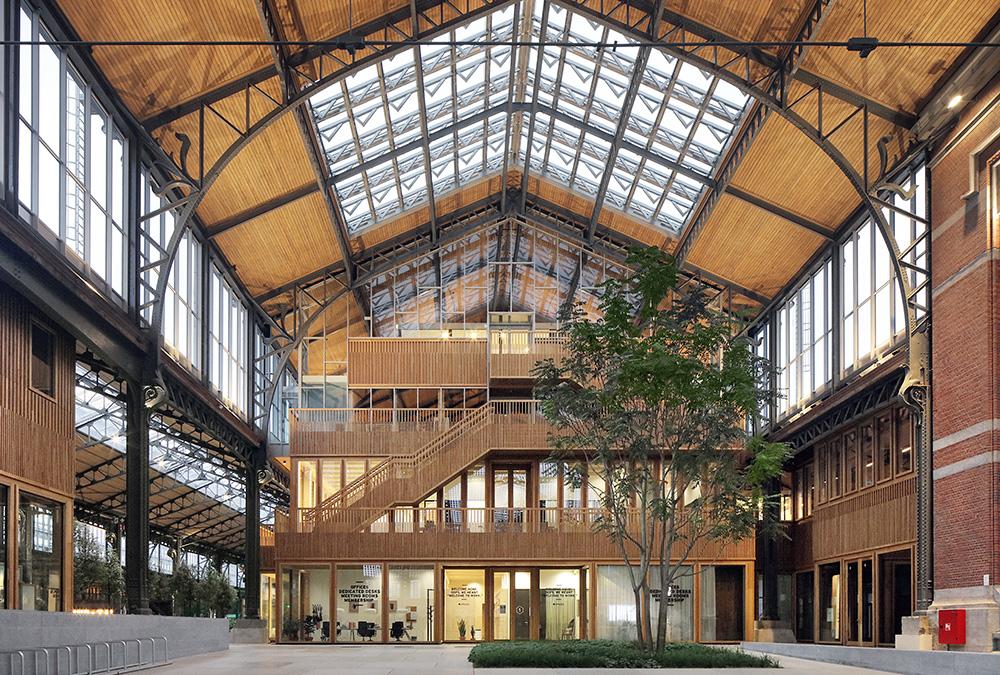 The giant building consists of three larger and four smaller halls, all of which are now accessible again. Twelve new structures have been added beneath the existing roofs of the side aisles. This makes 45,000 square metres of total space available for the new mixed-use programme.
The twelve pavilions create a new structure consisting of boulevards and streets, parks and squares. This follows the existing urban context and the building structure in a natural and logical way – just like a real town or city.

Michiel Riedijk, architect and co-founder of Neutelings Riedijk
The central space is for public activities, and its pleasant climate changes with the seasons. There are also green spaces for relaxation: inspired by Barcelona's La Rambla, magnificent boulevards are perfect for a stroll.
Mediterranean flair
Wide footpaths provide plenty of room for spacious inner gardens with large trees. The aim of the architects was to create an environment that conveys "the feel of a vibrant Mediterranean city where it is pleasant to stroll all year round".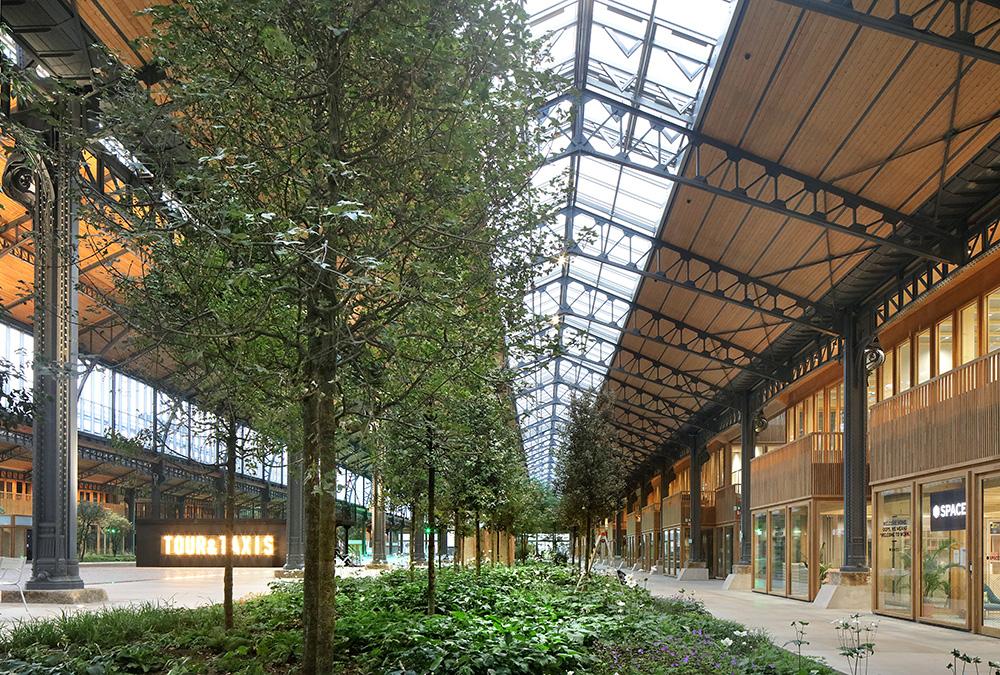 The diverse green areas were planned by Belgian studio OMGEVING. Its creative landscape architects designed a total of ten gardens based on four themes: forest, flowers, lawn and scent. They selected plants that would thrive in conditions similar to those of a Mediterranean climate. And on the small squares, visitors can linger a while to admire eight mosaics by local artist Henri Jacobs.
Successful cooperation
Neutelings Riedijk joined forces with Ney & Partners and Bureau Bouwtechniek to construct the new CLT fittings. The façades for Gare Maritime were clad in oak (FSC). Thanks to the timber structure, the amount of cement used was reduced enormously.
Maximum timber, minimum cement
This is good news for the environment: after all, cement production still causes four times more greenhouse gas emissions than global air traffic. It is one of the main emitters. Put it this way: if the global cement industry were a country, it would be the third-largest emitter of CO2 worldwide – surpassed only by China and the USA. As well as that, the new Gare Maritime would be five times as heavy if it were made of concrete.
According to Extensa and the architects, opting for timber also shortened the construction time significantly: thanks to prefabrication and dry construction, it was far less than it would have been with conventional materials. The work began in the third quarter of 2018. And the first offices in Gare Maritime had already opened their doors by winter 2019.
The "circular" Gare Maritime
Circularity was also of central importance to the architects: reusing and conserving resources was a priority area throughout. With this in mind, they designed detachable connections and modular timber components.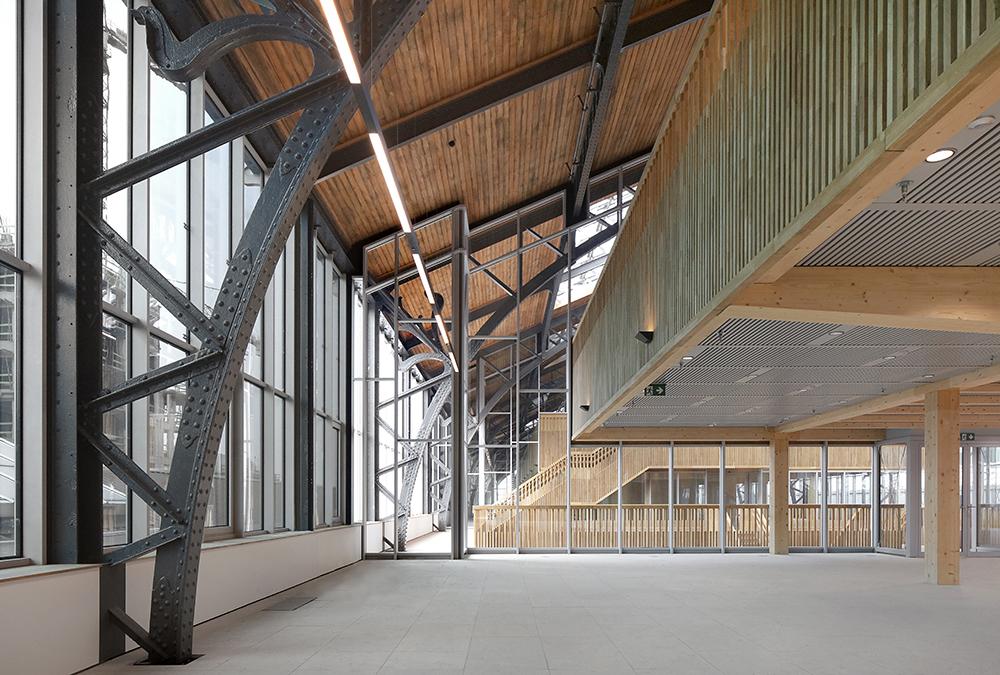 The new Gare Maritime is energy-neutral and free from fossil fuels. The glass façades on Rue Picard are equipped with solar cells. On the roofs, a total area of 17,000 square metres has been fitted with solar panels.
Clean local energy
Back in June 2020, Extensa announced proudly: "The panels installed by EnergyVision have already produced 1 million kilowatts of power". They are expected to provide 3 million kilowatts of clean energy every year – enough for 1,150 households. Needless to say, the project also harnesses geothermal energy and uses rainwater to irrigate its gardens.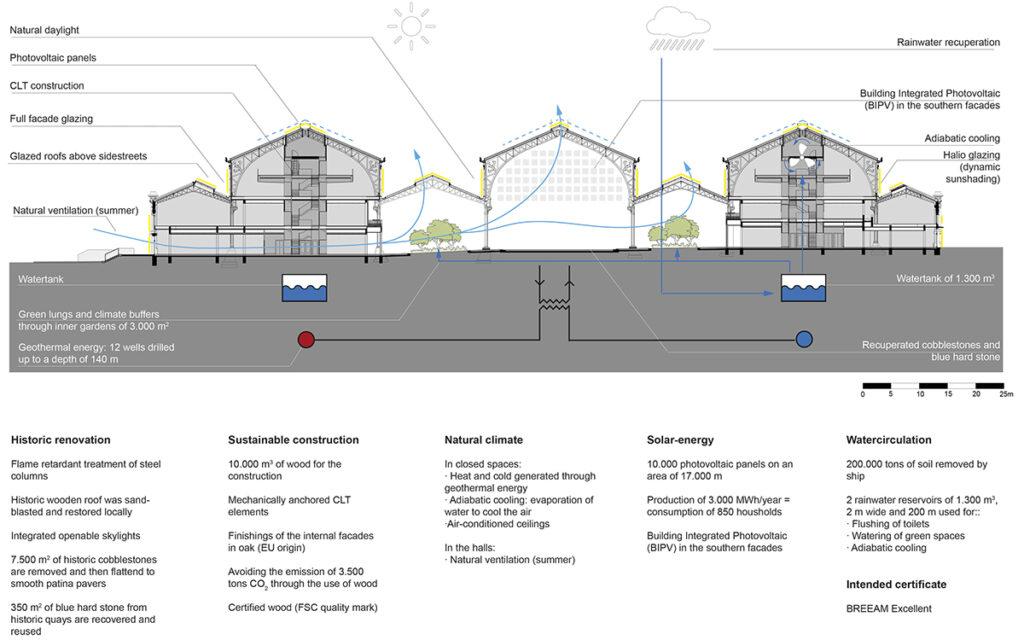 The existing station building forms the thermal shell, without additional heating and cooling in the pavilions. The latter are provided by twelve geothermal wells that are up to 140 m deep. They are supported by a passive cooling system that uses vaporized rainwater to cool the air that is drawn into the building.
Special glazing
The roof was reinsulated and the giant windows at the sides and ends of the main halls modernized with some 1,633 square metres of sensor-controlled, dimmable Halio glazing panels. The planners felt that mechanical solar control would have spoiled the look of the façade, besides other considerations.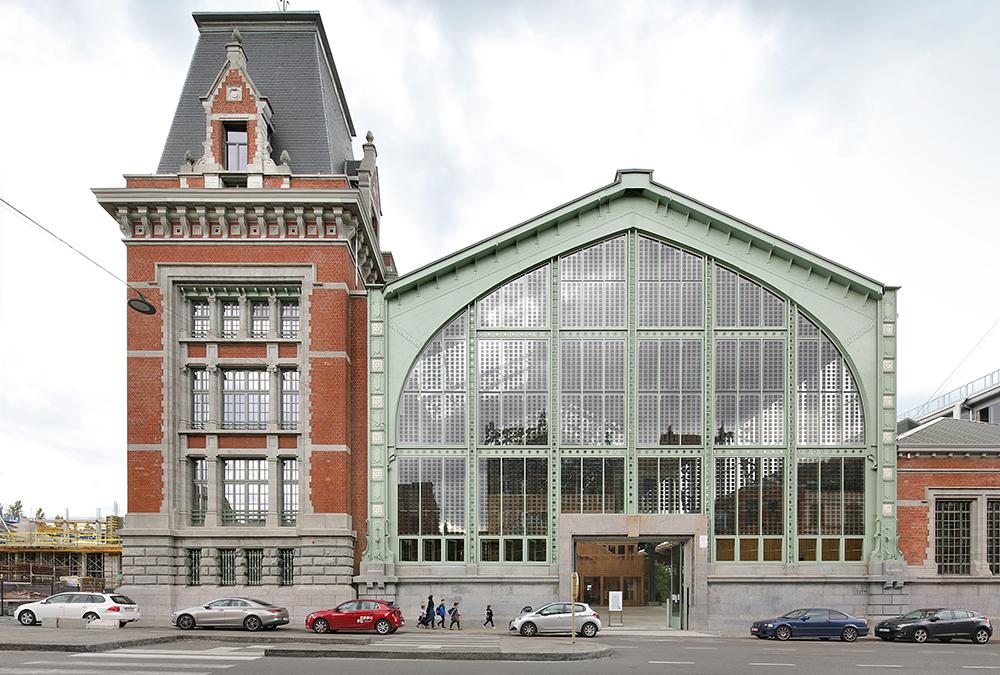 It is only natural that the sustainable renovation of the old Gare Maritime should need substantial groundwork. In the first stage, the historic building was carefully restored by Jan de Moffarts Architects, Bureau Bouwtechniek, Ney & Partners and Boydens. The construction weaknesses associated with the riveted lattice girders and three-hinge trusses were rectified. Following a highly detailed analysis with various scenarios, the building was given a new, sustainable "skin".
Complex new "inner life"
The next project phase was also far from straightforward. "The biggest problem we faced was to build the new volumes within the historical structure," explains Extensa project manager Kevin De Neve in UK magazine Building. "To allow for thermal expansion and contraction of the steel structure, we had to leave a 7 cm gap between the two."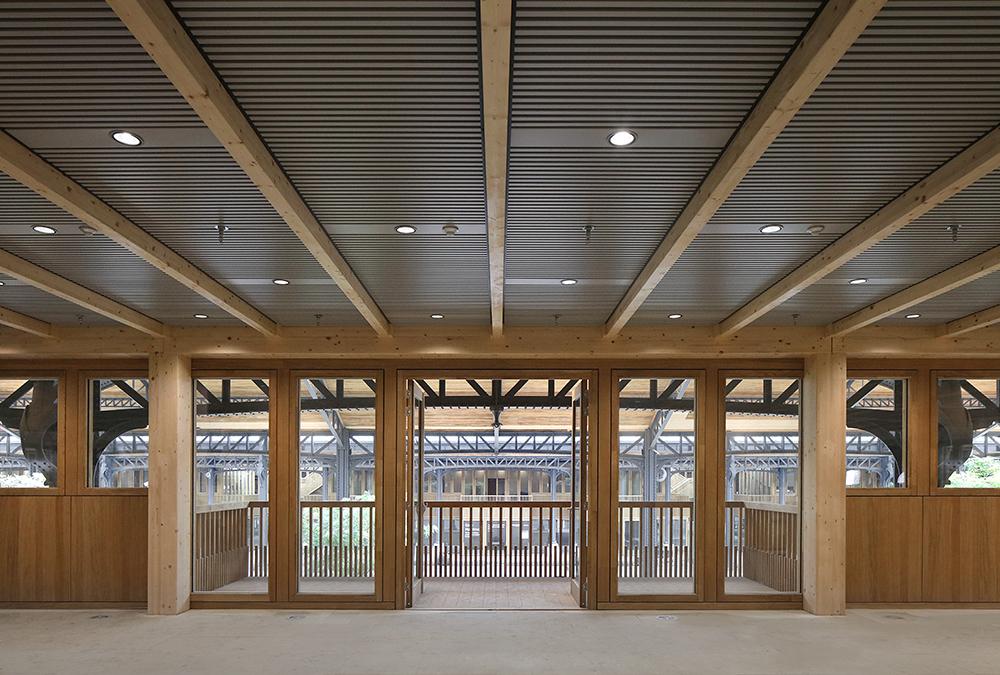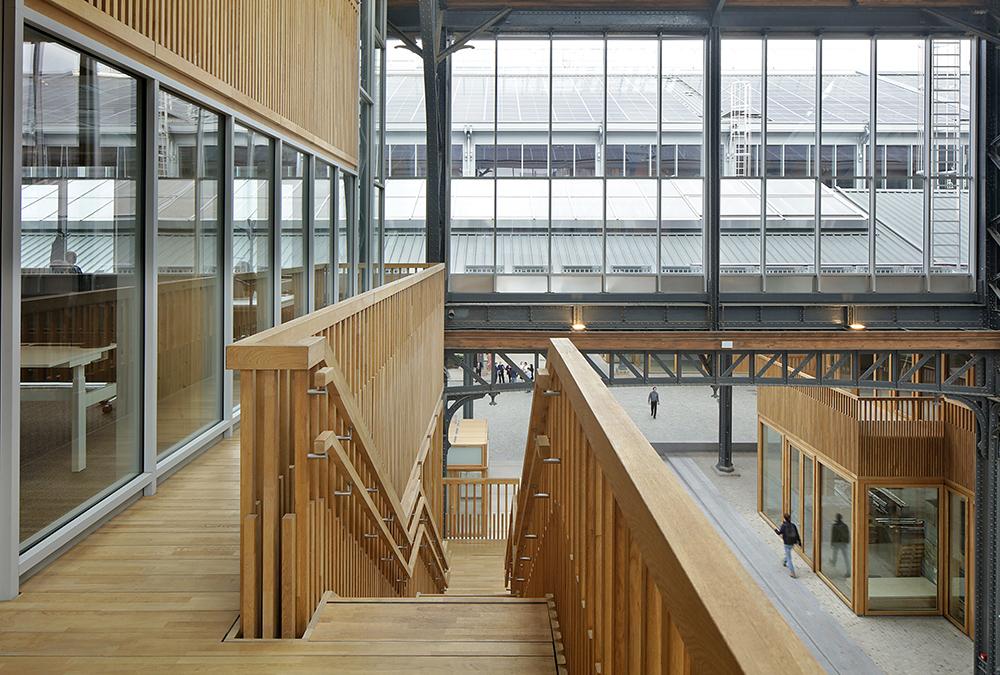 Züblin Timber, the company responsible for the timber construction, also had its fair share of challenges. The buildings are formed around central cores of spruce CLT, with a structure of columns and beams, and floors of CLT panels with glulam ribs.
"Wooden" challenge
While glulam ribs made it possible to use unusually long spans for timber constructions, they necessitated a special installation technique at Gare Maritime. Normally the ribs are glued to the panels in the factory but this would have made transporting them to Brussels inefficient.
We aimed to use concrete just for the foundation and floorplate. We used 10,000 m³ of wood and every connection is made mechanically so we can always dismantle them if required.

Kevin De Neve, head of construction at Extensa
As Züblin's Martin Schimpf explains in Building, on-site production would have been too expensive. So another solution was needed. Accordingly, the team designed a screwed connection that could easily be produced on location. It was even possible to keep to the tight schedule: in twelve months, a total of 10,000 m³ of timber was used.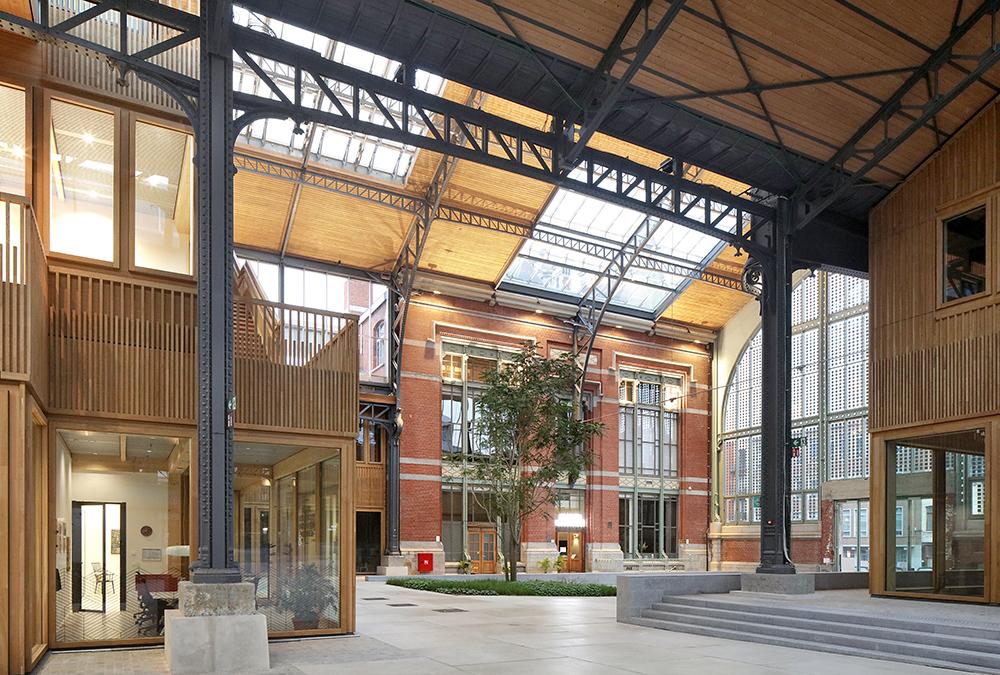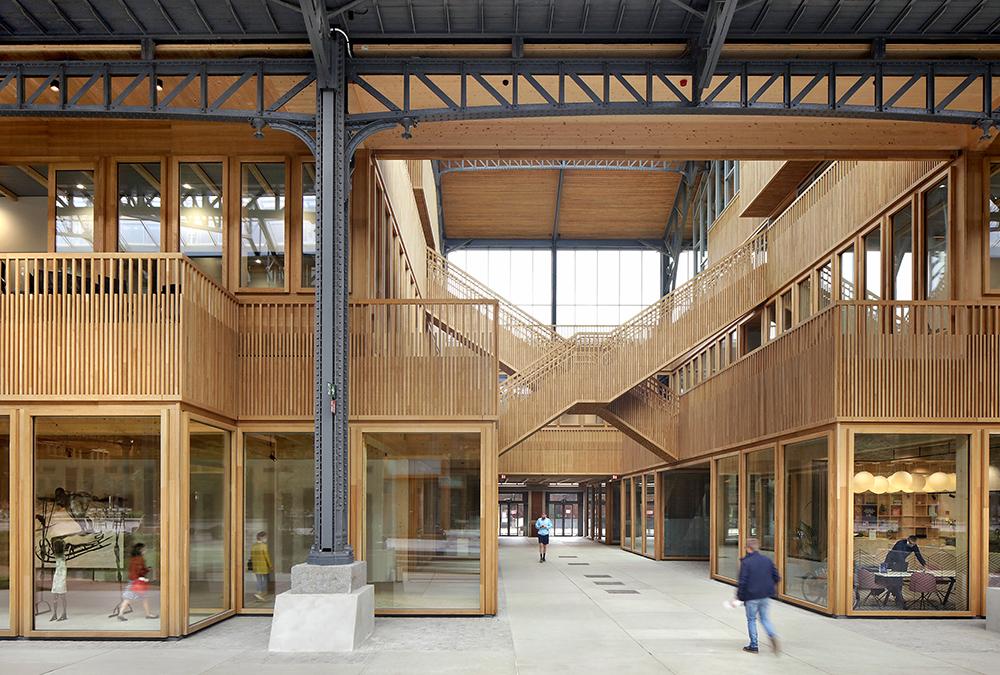 These are long-resolved complications that the users of the beautiful Gare Maritime will never need to know about. The bright offices and spaces provide a healthy, open working environment.
The inviting pavilions include a ground floor with large oak windows, two floors and a mezzanine under the roof ridge. These individual pavilions are connected by sculptural wooden steps above the inner "streets".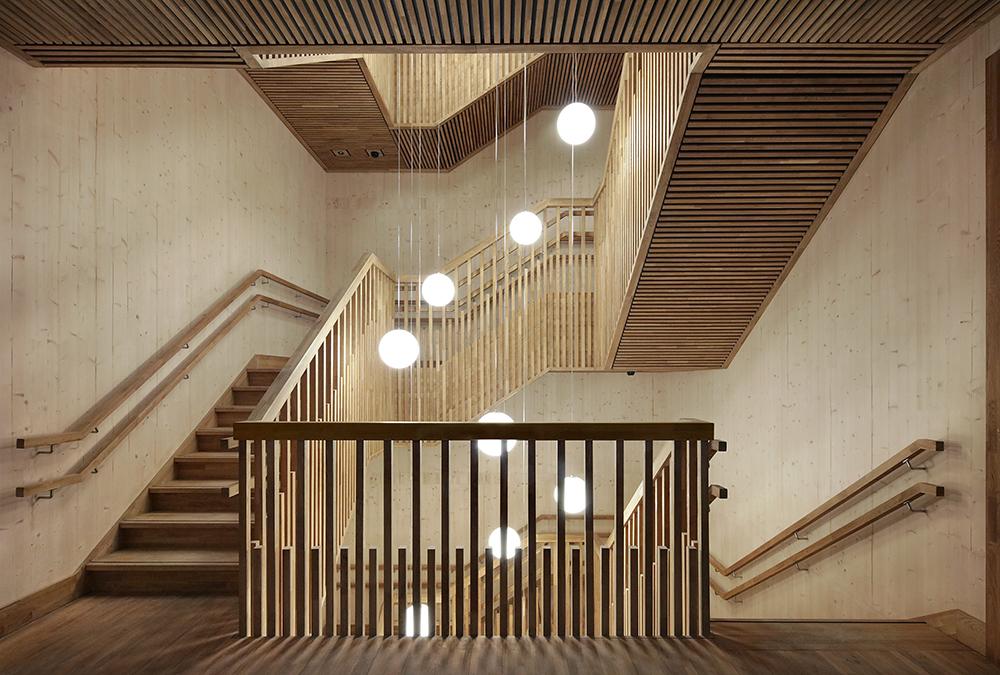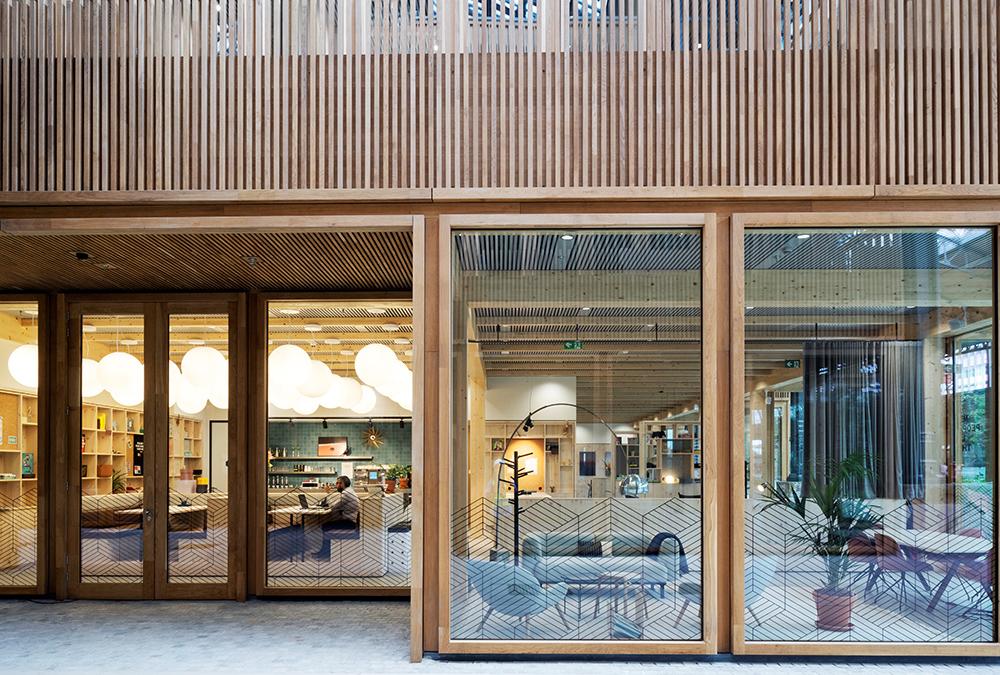 The building's modular system means that there is a wide range of possible uses – from offices and workshops to shops and showrooms. And a simple trick prevents the project from turning into a sprawling giant: each pavilion has its own address.

The new Gare Maritime makes a key contribution to the development of the Tour & Taxis location and the city's Canal Zone. In Building, Thijs Van Roosbroeck from Ney & Partners describes its design as "quite special" for a functional building.
Monumental and well-conceived
The gigantic building has no partitions and gives the impression of being a single structural unit. In reality, it is a series of giant halls, each 276 metres long: "There are three main halls that each have a roof span of around 26 m, with smaller halls in between them".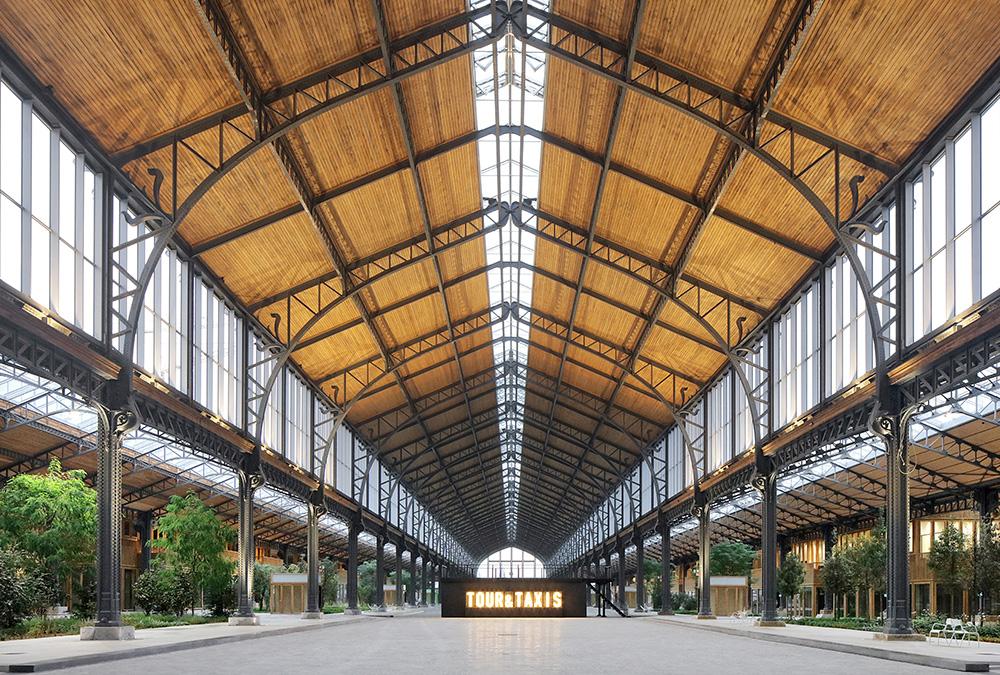 Retaining this giant historical complex is not only a shining example of sustainable redesign – it also stands out among the series of recent timber construction projects. After all, wood has been making quite a comeback over the last few years.
Exquisite timber construction
Many other high-profile firms have since joined Neutelings Riedijk in recognizing the benefits of this natural material. This trend is confirmed by spectacular designs by MVRDV, Dorte Mandrup and Henning Larsen. And practical testing is debunking common prejudices against using this renewable resource. With Gare Maritime, the Neutelings Riedijk team has elegantly shown again that timber construction has a bright future once more.
Text: Elisabeth Schneyder
Translation: Rosemary Bridger-Lippe
Images: Neutelings Riedijk Architects / Filip Dujardin, Sarah Blee
Other articles
that might interest you