Magazine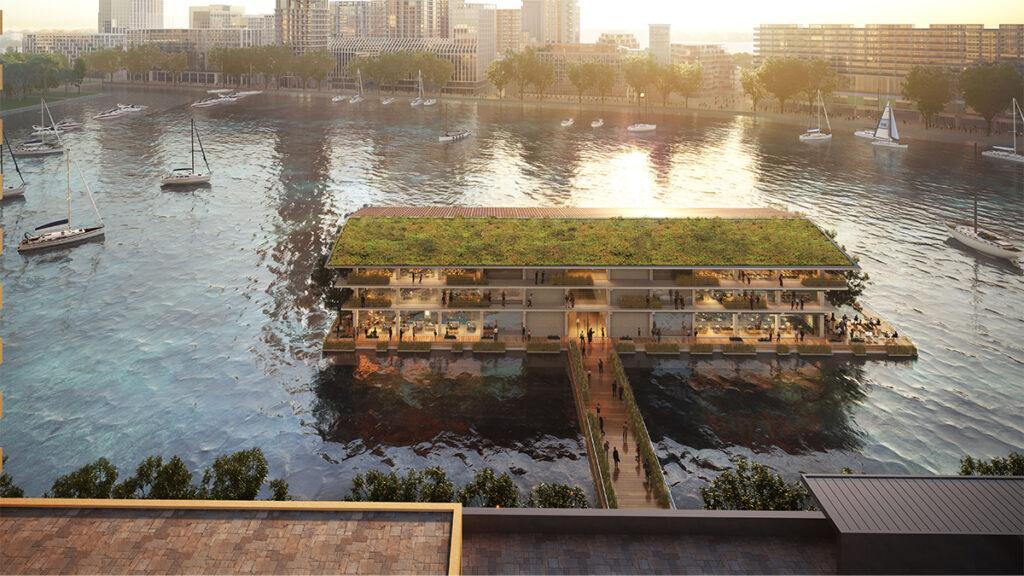 A floating office made of wood
Workplace ahoy! Architecture studio Powerhouse Company has designed a concept for a floating office building. Sustainable, energy-neutral and made of wood, it will serve as the headquarters for the Global Center on Adaptation in Rotterdam as of autumn 2020.
Timber construction that minimizes the carbon footprint. 800 square metres (2,600 ft) of solar panels for sustainable energy supply. 3,000 square metres (9840 ft) of floor space cooled through heat exchange with the surrounding water. And a smart design that lets in plenty of light while preventing it from ever getting too hot. These are all aspects of the innovative project that Dutch architectural firm Powerhouse Company is currently bringing to fruition in Rotterdam: a floating office made of wood that is worthy of its future users – the Global Center on Adaptation (GCA) – which will be moving in soon. In other words, the very organization that helps countries and companies to counter the effects of climate change.
Reusable "office ship"
For the next five to ten years, the GCA headquarters are to be based on the new "office ship" in Rotterdam's Rijnhaven port. After this, a further advantage of the floating office will come into effect: as it is made of flexible modules, the wooden construction can be taken apart and reassembled in another location without too much trouble.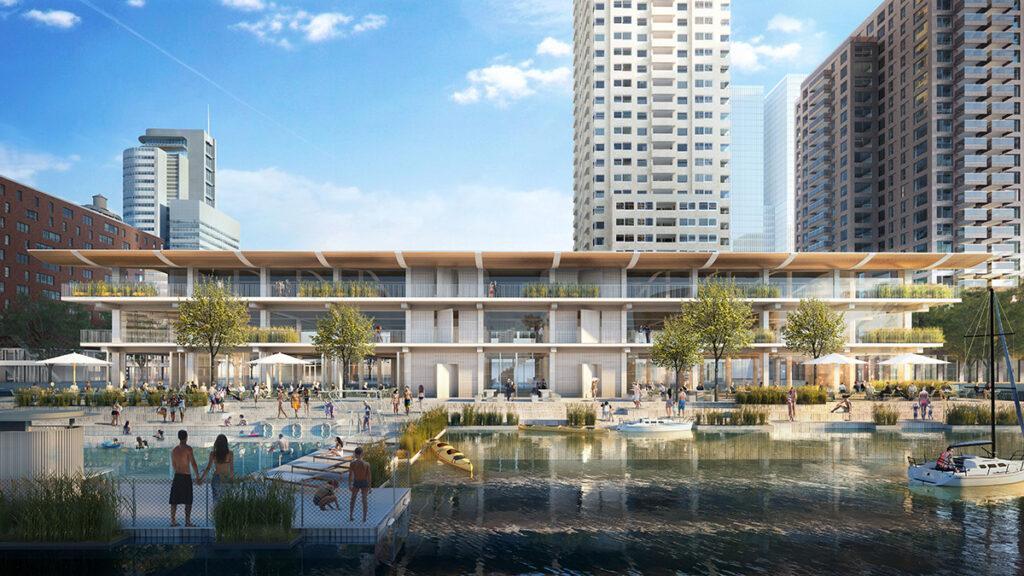 Work is currently continuing on this unique project. By autumn of this year, it is to be shipped from the Van Leeuwen grounds in Maashaven to Rijnhaven, where it will be put into operation. Much to the delight of the city and the Powerhouse Company team, who are eager for the floating office to serve as a flagship project for sustainable, climate-adaptive and reusable design.
High-profile support
Things look promising right now. If the planned official opening goes ahead in the autumn, it is likely to attract worldwide interest right away. This is because former UN Secretary-General Ban Ki-moon – who leads the GCA together with Bill Gates and IMF Managing Director Kristalina Georgieva – is to speak alongside Rotterdam's mayor Ahmed Aboutaleb.
A climate-resilient world is one of the biggest challenges for current and future generations. With this building, we want to show that real estate development can also take the initiative in solving these climate-related threats.

Nanne de Ru, architect, Powerhouse Company founder and Red Company co-founder
"Designing a sustainable, floating office building was a challenging commission and we approached it holistically", said Powerhouse Company founder Nanne de Ru. The building is ready for the circular economy: "By using the water of the Rijnhaven to cool the building and the roof of the office as a large energy source, the building is truly self-sufficient. The building structure is designed in wood; it can easily be removed and re-used."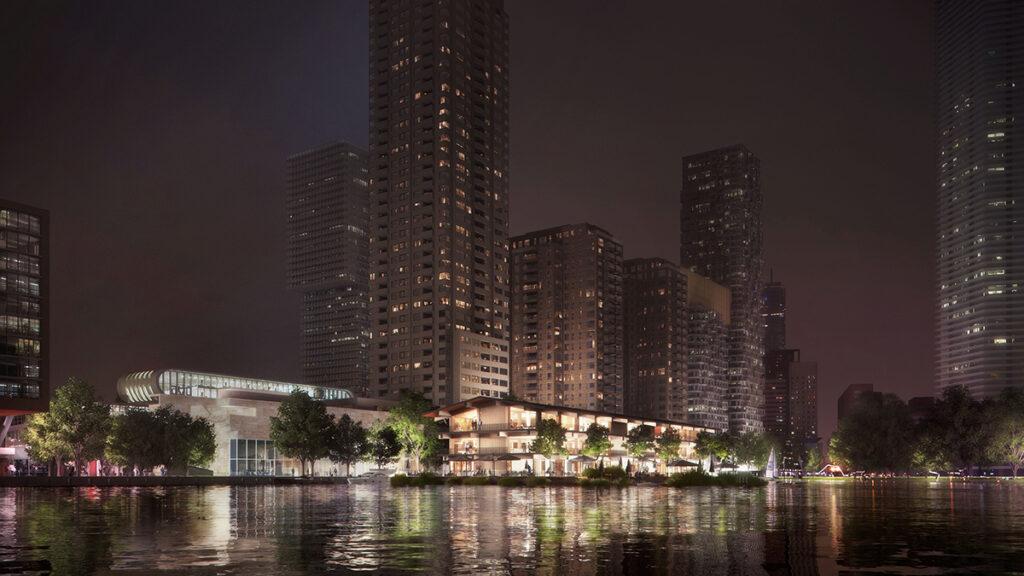 The Floating Office Rotterdam (FOR) will also have a restaurant and large outside terrace. One relaxing addition is a swimming pool that invites visitors to take a dip in the water from the surrounding Meuse. The overhanging roofs of the floating office provide constant protection from the sun's heat. LED lighting and the greenery on the roof (in addition to the solar collectors) are part of the sustainability concept. The agreeable working environment is thanks in part to the large windows flooding all rooms with plenty of light.
Expert on-water construction team
Award-winning architecture studio Powerhouse Company is responsible for designing the floating office, from the original sketch to the final construction. The project developer for this innovative undertaking is RED Company from the Netherlands. Also on board are engineers from Bartels & Fedder, who are renowned for their "floating" solutions, and Solid Timber. The building is being constructed by two firms, Valleibouw and Osnabrugge.
I am delighted that the GCA will be housed in a building that showcases pioneering climate-resilient office design.

Prof. Patrick Verkooijen, CEO of the Global Center on Adaptation (GCA)
The importance of and demand for innovations like FOR can be seen from other sustainability-oriented projects like high-rises and settlements made of wood or floating residential complexes. As well as this, awareness of the looming effects of climate change ultimately led to the founding of the organization that will be headquartered in the floating office. The Global Center on Adaptation's mission is to encourage the development of measures for coping with the effects of climate change through technology, planning and investment.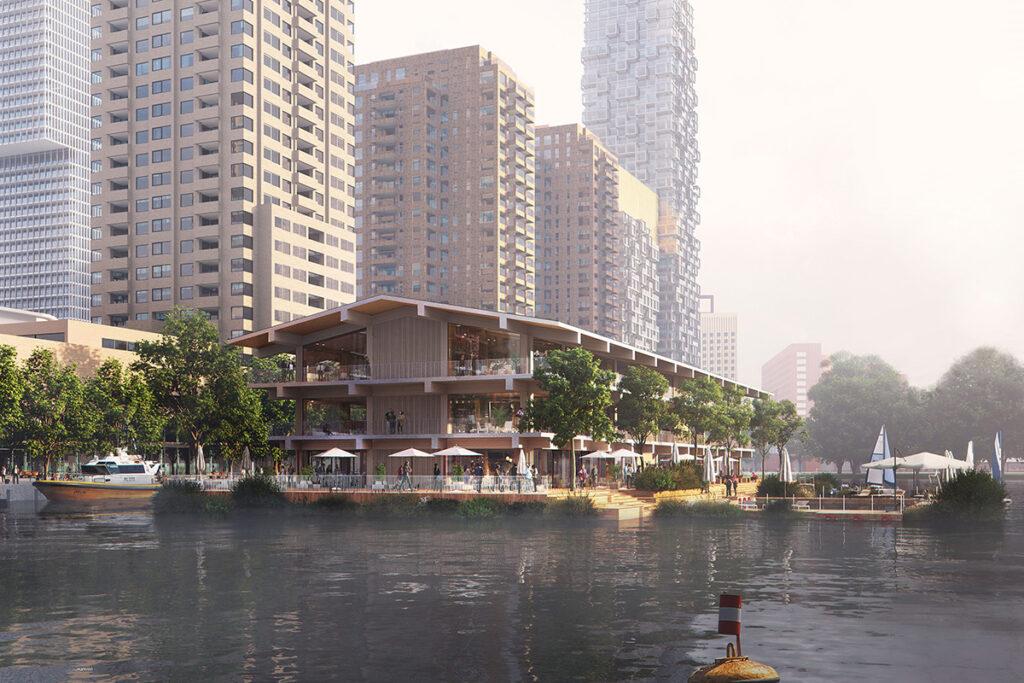 The GCA facilitates solutions by bringing together governments, private companies, civil society and knowledge institutions.
As its CEO Prof. Patrick Verkooijen declares: "I am delighted that the GCA will be housed in a building that showcases pioneering climate-resilient office design and I hope it will inspire others to future-proof their infrastructure." Taking suitable steps before disaster strikes not only makes economic sense but "can also help us to mitigate against climate change".
Floating hope for the future
It remains to be seen whether the floating office in Rotterdam can in fact be inaugurated as part of the International Climate Adaptation Summit in the coming autumn. Either way, it is a truly forward-looking project. As Prof. Verkooijen puts it: "As the world's climate changes, extreme weather events and rising sea levels present new challenges for architects." And FOR is a model that combines a number of solutions under one roof.
Text: Elisabeth Schneyder
Translation: Rosemary Bridger-Lippe
Images: Powerhouse Company, Plomp, Atchain
Other articles
that might interest you