Magazine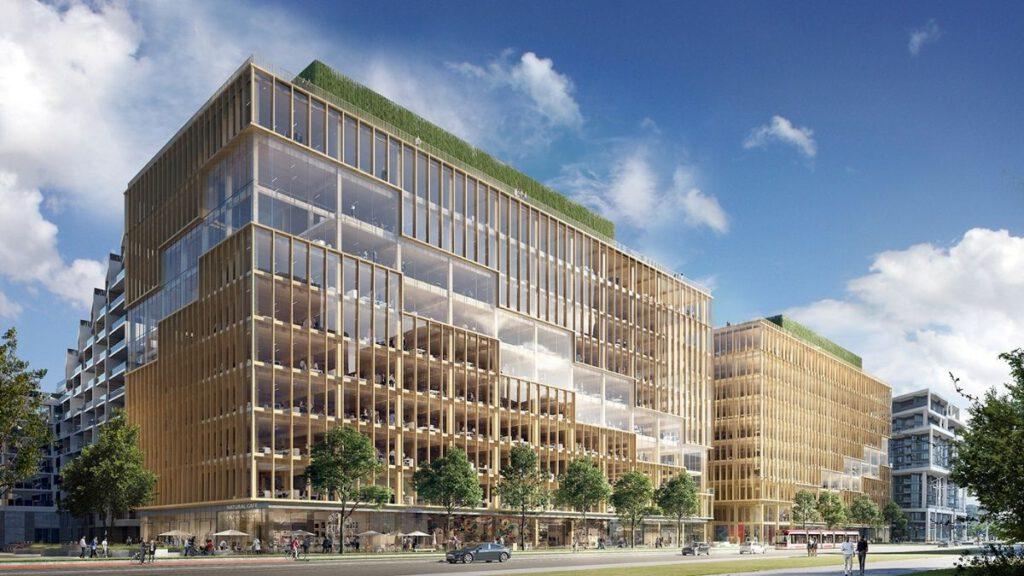 Timber with talent and technology
The Danish office 3XN is planning to build North America's tallest timber office building in Toronto. Called T3 Bayside, the complex will offer more than 500,000 sq. ft. of next-generation office space when completed.
T3 Bayside in Toronto is set to become the "tallest timber office building" in North America to date. Designed by the renowned Danish architectural firm 3XN, it will join a series of modern creative workplaces that have been built on the basis of the innovative T3 concept by developer Hines.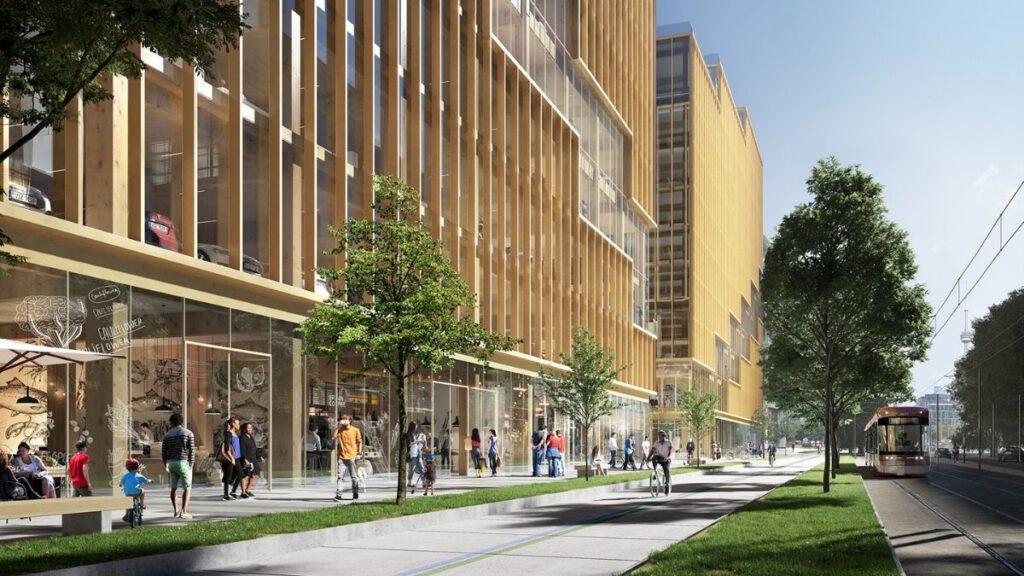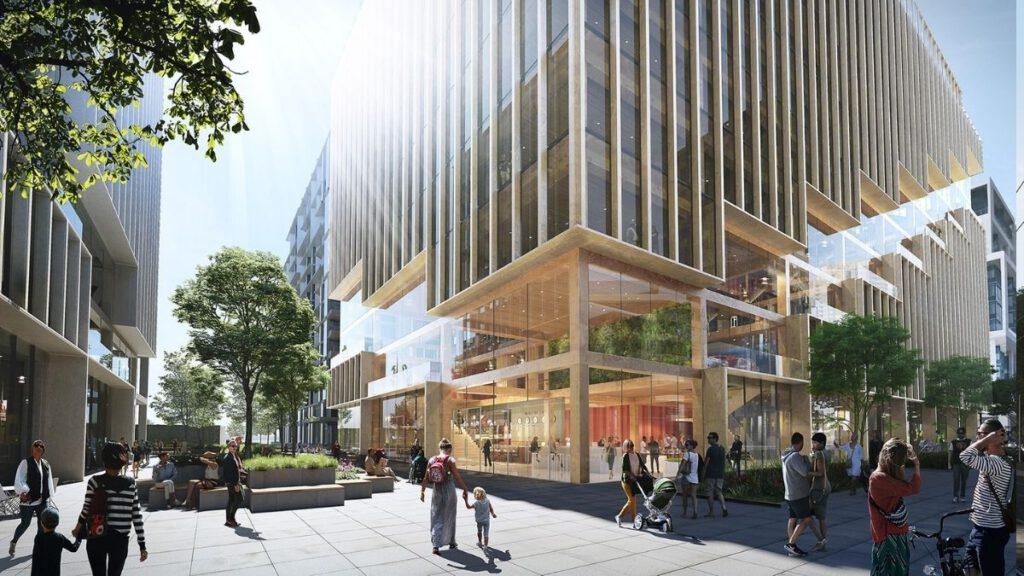 Construction of the solid wood office complex on Queens Quay East, to the direct west of Parliament Street in Toronto, flanked by Merchant's Wharf, has already begun.
It is the first of a twin office ensemble in Bayside Toronto, Canada. When completed, the two T3 Bayside buildings will offer more than 500,000 sq. ft. of "next-generation" office space, according to Hines. Established in 1957, the property investment, development and management firm Hines operates in 27 countries.
By early 2023 around half of the office space with a floor area of 30,000 sq. ft. will be finished in the first phase.
Newly developed district
Danish studio 3XN was chosen as the winner of an international competition and is cooperating with local office WZMH Architects. According to 3XN founder Kim Herforth Nielsen, nowadays the objective is to "give something back" to society and the environment by means of sustainable construction.
The office complex T3 Bayside is part of a 800-hectare revitalization initiative to redesign Toronto's harbour district. T3 Bayside is joining the residential buildings in the area that were also designed by 3XN.
Three times T
T3 stands for a combination of timber, talent and technology. Bayside is the sixth such building constructed by Hines. Others include the T3 Rino in Denver, T3 West Midtown in Atlanta, T3 Goose Island in Chicago and T3 Collingwood in Australia.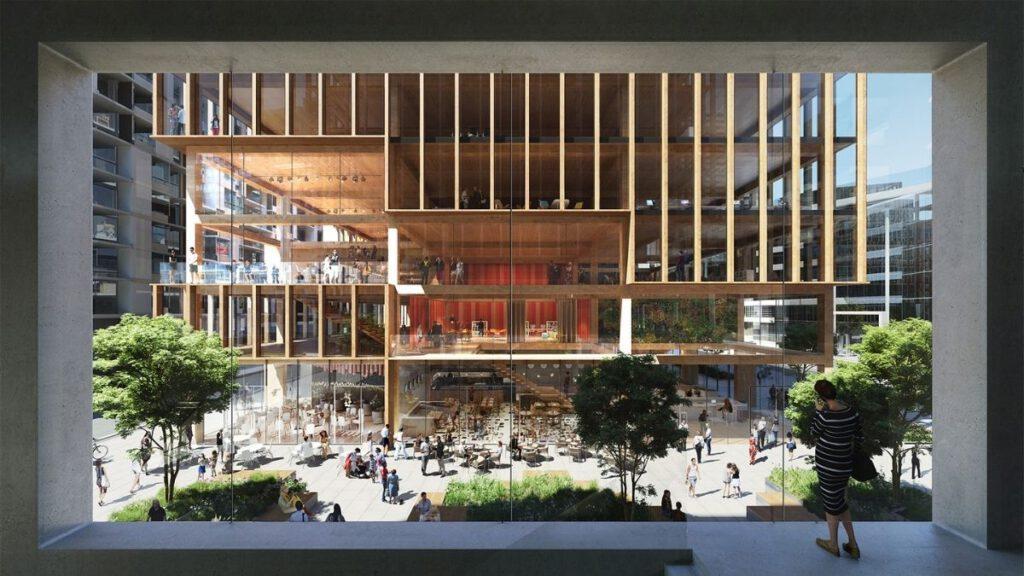 Timber construction helps to reduce the ecological footprint. All the wood used for the construction of T3 Bayside will be sourced from sustainably forested trees in order to minimize the environmental burden and ensure regeneration of the forests, emphasizes Hines.
In the list of the countries with the largest forest areas in the world, Canada is in 3rd place with around 340 million hectares.
Canada seems a natural place to build the tallest timber office building in North America.

Jens Holm, partner of 3XN North America, responsible for the T3 Bayside design
Other well-known timber buildings in Canada include the hybrid Terrace House by Japanese architectural firm Shigeru Ban in Vancouver and the stepped Vancouver Art Gallery built in 2014 with a design by Herzog & de Meuron.
The tallest timber projects in the world include the HoHo in Vienna and the Mjøstårnet by Voll Arkitekter in Norway's Brumunddal. The first timber hybrid office building Timber Pioneer is currently being built in Frankfurt, Germany's financial metropolis, with UBM Development as its developer.
Both equipment and furnishings of T3 Bayside aim to help increase user productivity, and the "tenant-oriented atmosphere" will help companies to attract and retain talented elite staff. This technological progress promotes an "innovative community".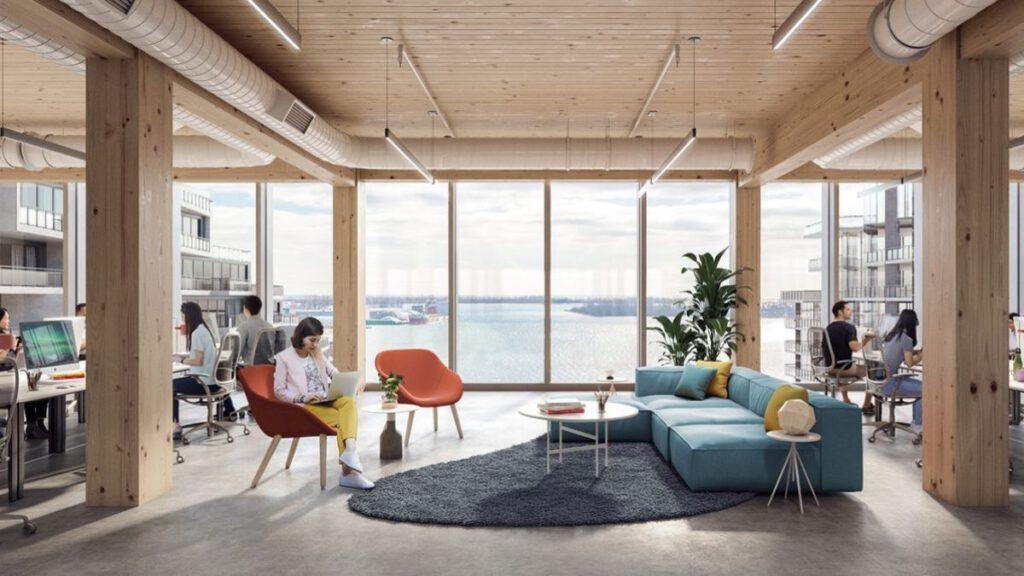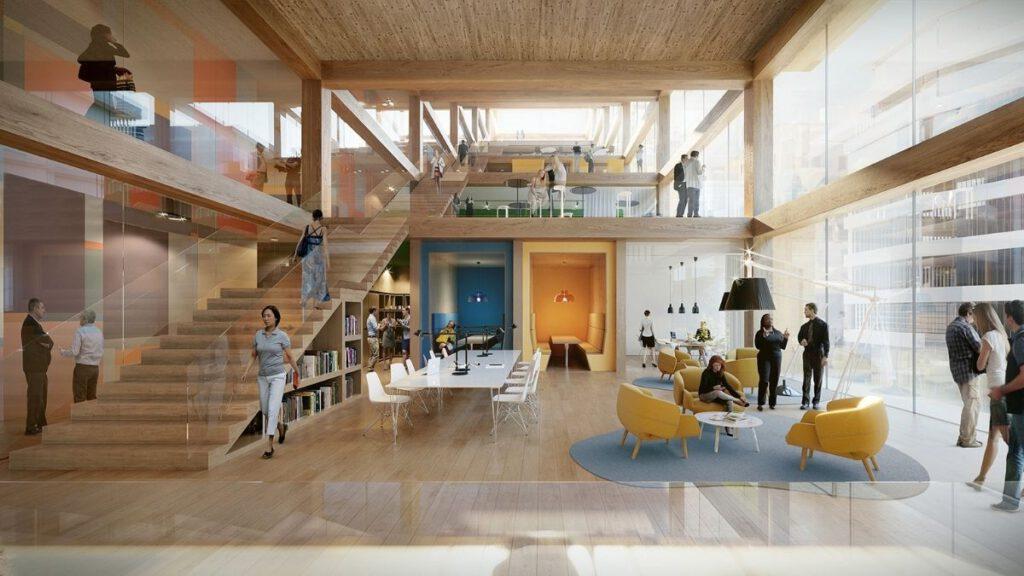 Full of atmosphere
Huge windows zigzag across the façade to separate the two office buildings made of cross-laminated timber. The office complex near Lake Ontario rises up ten storeys high. When finished, it will be 138 feet tall at its highest point. Thousands of wooden slats will adorn the façade.
CLT is a material made of laminated wood to achieve especially high stability. "The use of timber contributes to the sustainability of the building, both reducing construction time and allowing the building's elements to be easily disassembled and re-used for other purposes," according to 3XN. As a breathable material that helps to regulate moisture, wood creates a naturally healthy interior climate.
T3 Bayside: busy ground floor area
The renderings of T3 Bayside reveal that each of the two buildings will feature stepped roof terraces. They are mirror images of one other, linked by a large plaza. Lobbies, retail outlets and eateries are planned here, alongside rooms for exhibitions and galleries. This will position the ensemble as both an urban marketplace and a social space.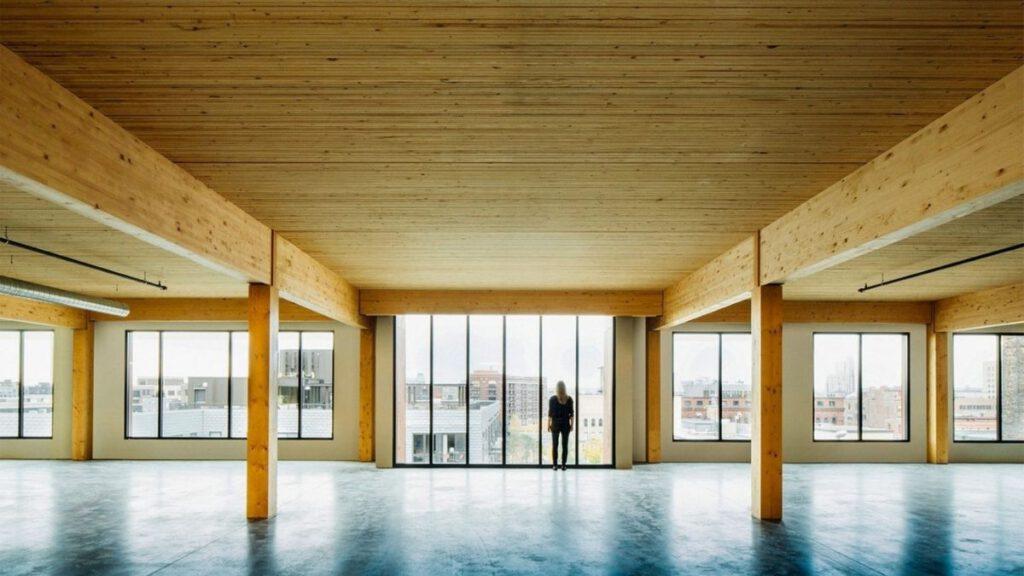 The terraces will descend towards the plaza and will serve as a new urban gateway, as a meeting place for visitors and users alike. Diagonal insections in the middle of the buildings host the communal areas. The roof terrace affords a stunning 360° view of the lake and city.
Timber also dominates in the interior of the office project with various single- and double-height zones on offer – depending on the use, such as co-working space or communal area.
With T3 Bayside we created flexible office spaces that can meet the requirements of a diverse group of tenants.

Kim Herforth Nielsen, founder and creative director of 3XN

There will also be a dedicated, private shuttle service exclusively for T3 Bayside to connect employees with Toronto's largest transit hub. In addition, the building has direct access to the Martin Goodman Trail. Numerous indoor and outdoor bicycle stands are planned as well. This makes sustainable travelling to and from T3 Bayside an easy option.
Text: Linda Benkö
Translation: Rosemary Bridger-Lippe
Renderings: 3XN
Other articles
that might interest you